MEGA SERIES GOES AUSTRALIAN!
05/06/2016
A big thank you to all the players who came to Stansted on June 5th from all over the UK (and Ireland, The Netherlands, Italy, Spain) to join our festival of Magic.

93 players attended the Sealed RPTQ, vying for one of 4 qualifying slots for Pro Tour Sydney,

189 Modern fans played in the Mega GPT Sydney, fighting for a shot at a free flight to GP Sydney or a share of an incredible booty of 28 Eternal Masters boxes!

A number of players also joined for the afternoon side events, completing an impressive line-up of over 300 players who swarmed the Radisson Blu in a joyful atmosphere.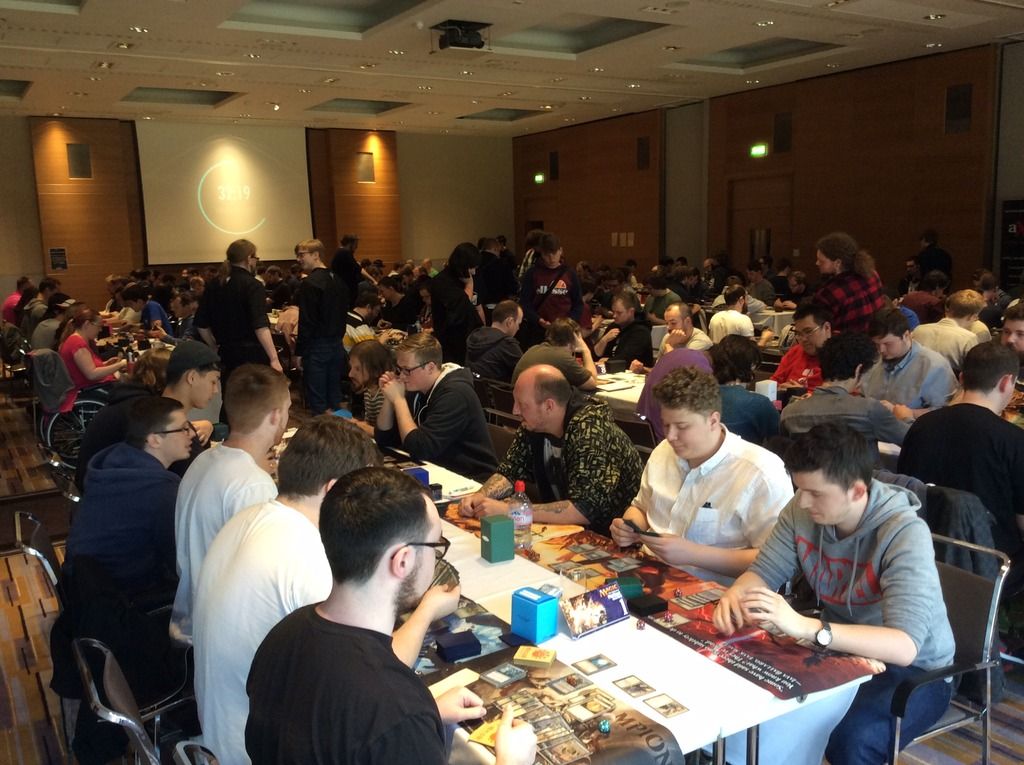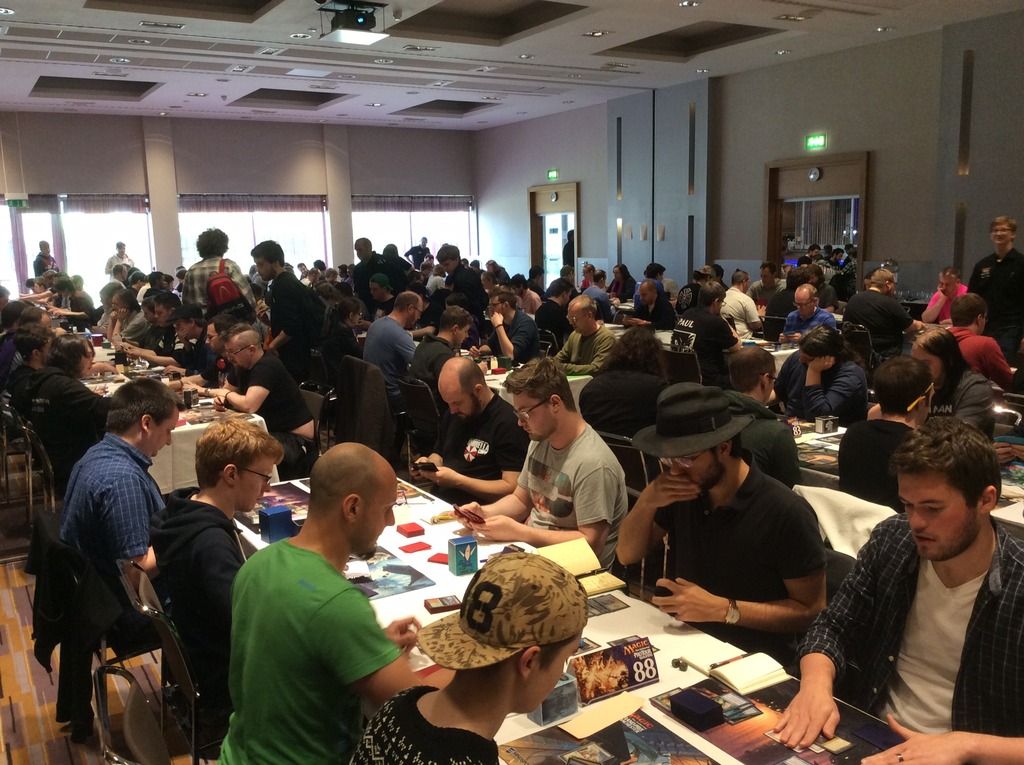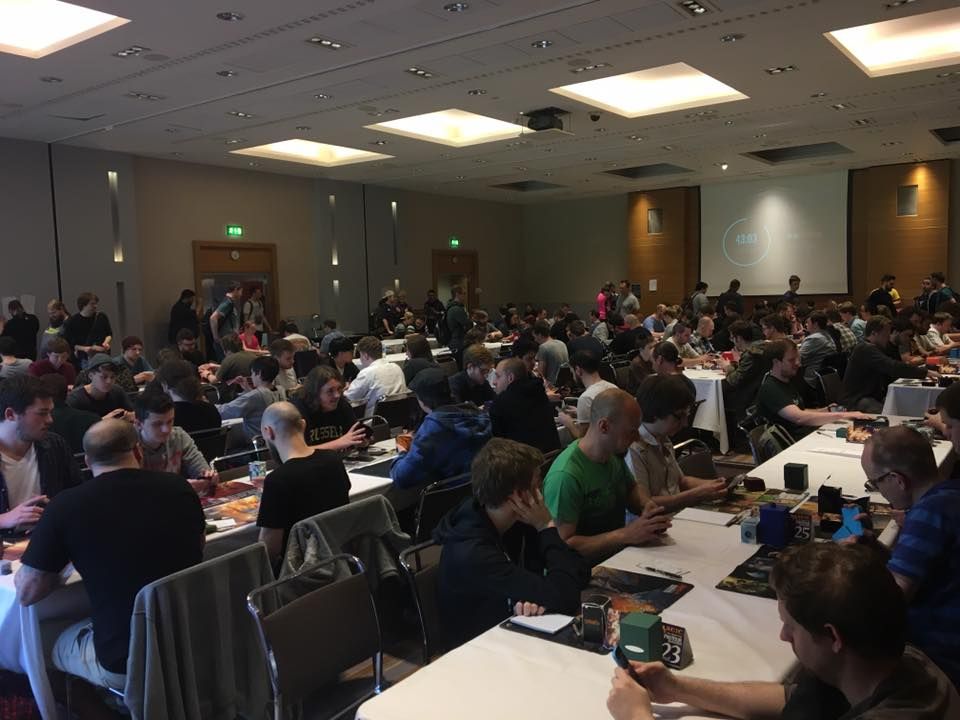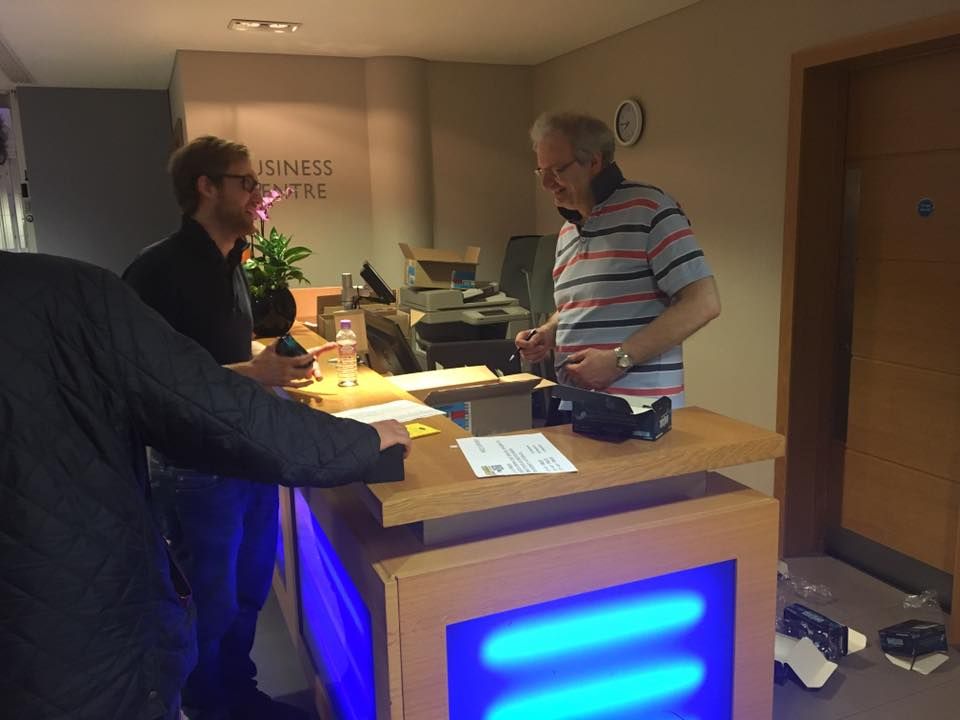 So, when the dust settled at the end, who was left standing?

On the RPTQ side, the following players mastered brilliantly the 7 rounds of Sealed and sat down for a Top 8 draft and a cruel quarter-final round which would deliver delight for the winners and despair for the losers:

Jason McKay
Matthew Foulkes
Alan Meaney
Duncan Tang
James Allingham
Francesco Giorgio
Raoul Zimmerman
George Channing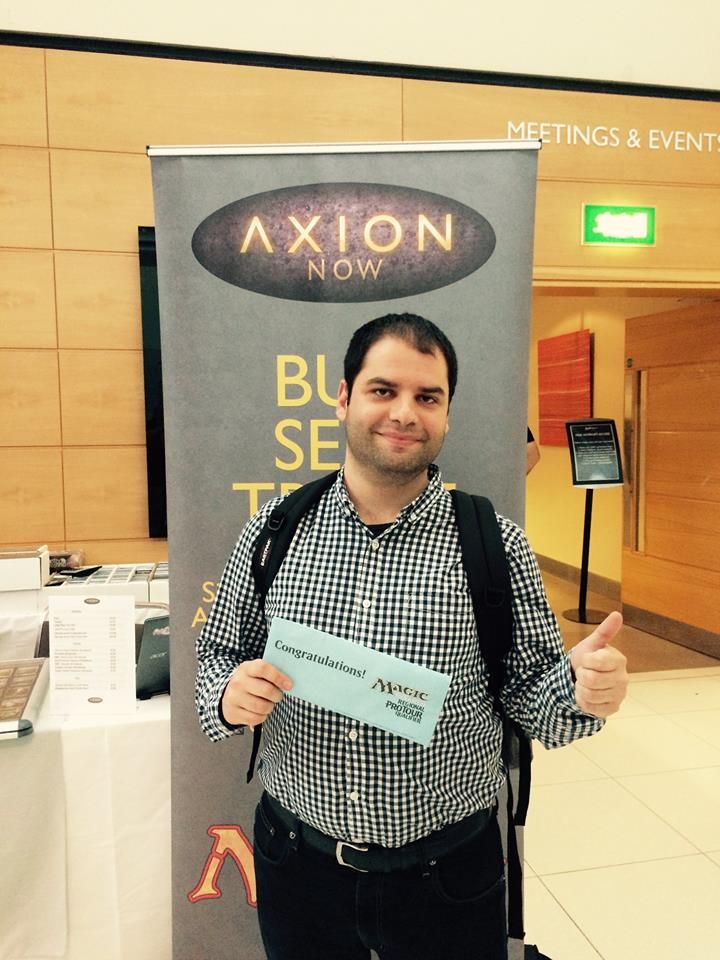 And in the end, it was Francesco, Raoul, George, and after a long and tense match, Jason (whose cheerful relief and elation could be heard from the hotel lobby a hundred yards away!) who won the jackpot, in the form of the famous Blue Envelope containing their invite to the Pro Tour.
Warmest of congratulations to all four of you, and best of luck Down Under :)
And commiserations to the losing quarter-finalists - I know it sucks, but you guys are talented, and your time will come, so hang on in there!

Meanwhile, in the other room...after a grueling 8 rounds, the Swiss portion of the tournament yielded the following Top 8:

Joey Fried (Affinity) - a very talented member of our Junior squad!
Patxi Sanchez (Jeskai Nahiri)
Adam Naisbitt (Bant Eldrazi)
Matt Light (Bant Eldrazi)
Levi Heinz (Affinity)
Matthew Mitchell (Merfolk)
Matt Thomson (Jund)
Jan Huang (Jeskai Nahiri)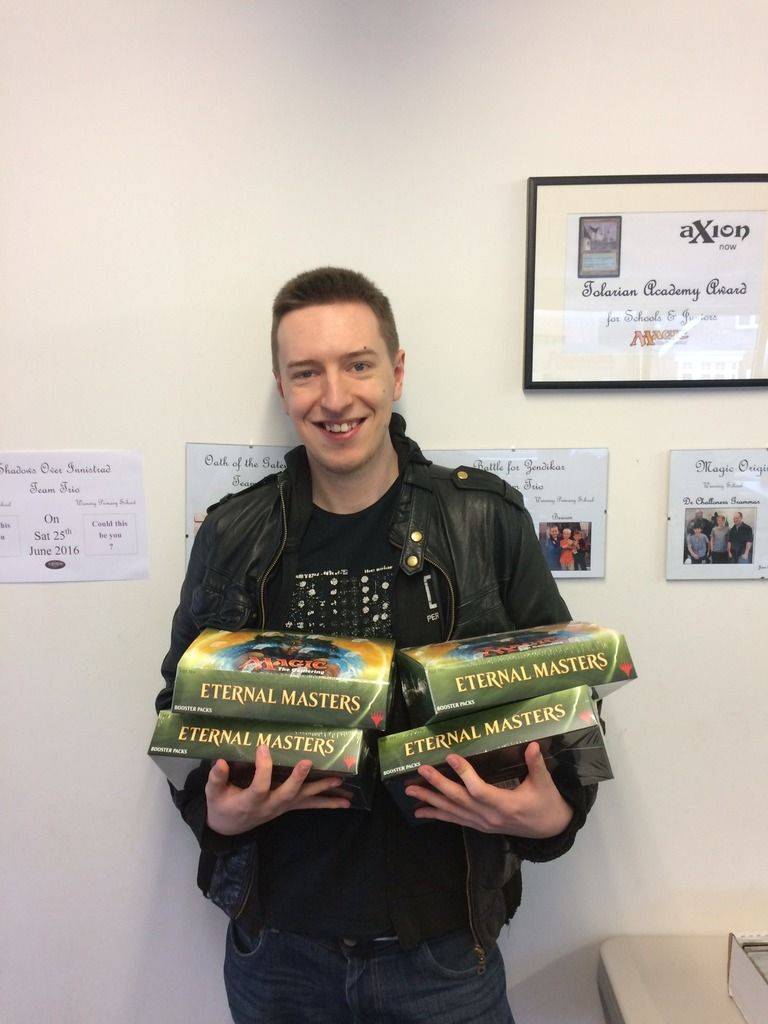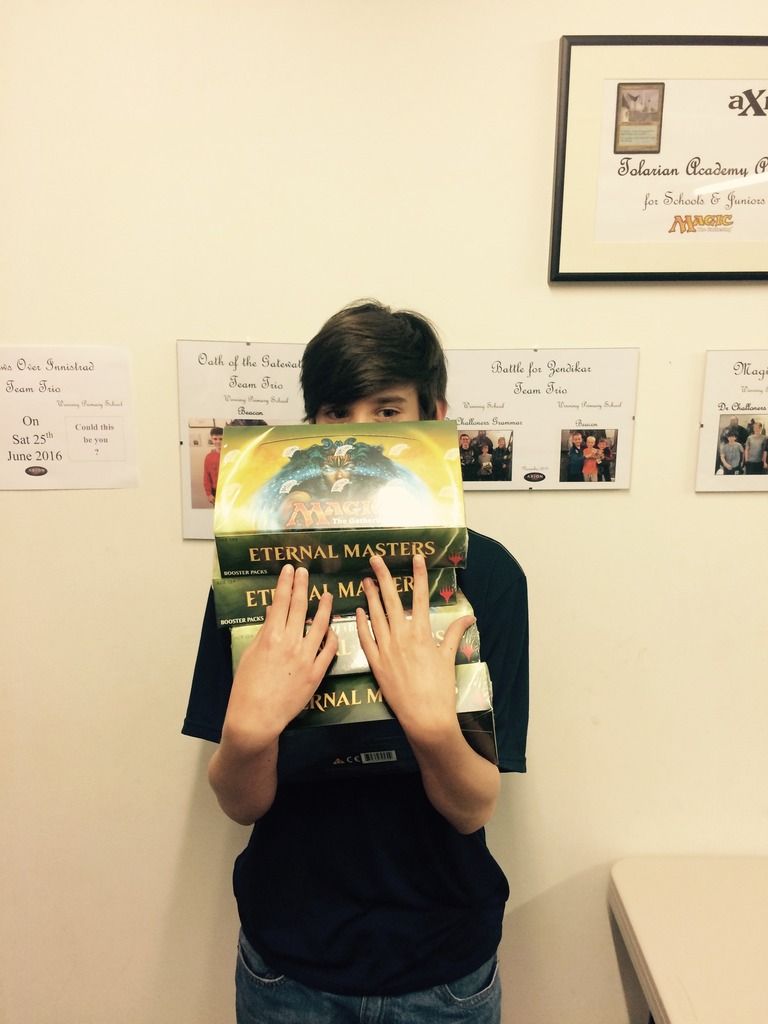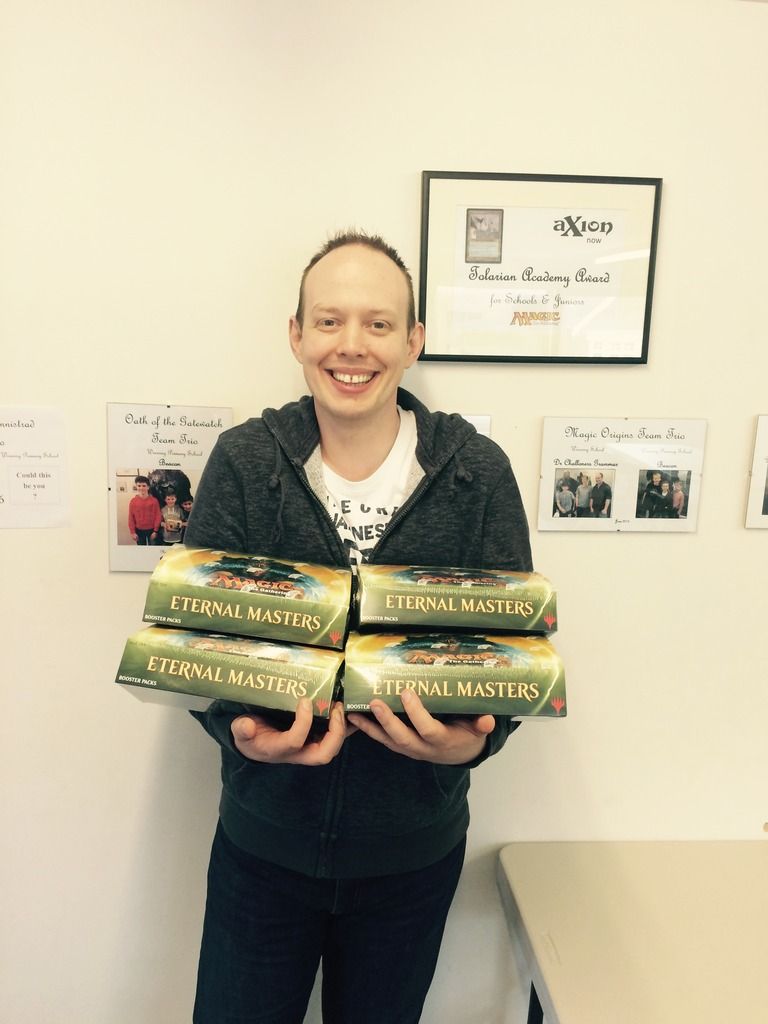 All of them got rewarded by a whooping 4 boxes of Eternal Masters for their good work, except for one player....
..... Jan Huang, who battled his way through the single elimination Top 8 to claim (thanks to Tamiyo's ultimate!) the coveted Axion Now Purple Envelope, containing his free flight to Sydney for the Grand Prix

Congratulations Jan, enjoy your time in Australia!


Finally, our warmest thanks to our exceptional team of judges, led by judge coordinator Kim Warren and Head Judges Jack Doyle and Oli Bird, and to our unflappable scorekeeper Kevin Blake, who all worked tirelessly to ensure this large event was run smoothly.
You were stars!


So on to our next Mega event, ant it's going to be a cracker!
Join us all in BIRMINGHAM on the weekend of July 9th-10th for our WMCQ extravaganza, which will feature the following flagship events:

- Saturday 9th: our national Mega Team Trio Sealed where we'll provide flight and accommodation to the winning team for GP Rotterdam (Team Trio Sealed of course!), and will shower the other top teams with crates of Eldritch Moon! Always a brilliant day out playing with friends.

- Sunday 10th: our Modern WMCQ, where the winner will have the honour of defending England colours as part of the country's World Cup team, and the rest of the Top 8 will win a box...but not any box, oh no, watch that space....

And as always, fantastic side events with incredible prize support

So, mark the date in your diaries, and don't miss the unmissable - see you all then!