PLANT, ANGEL, LOCKED
30/05/2016
G/W TOKENS AT GRAND PRIX MANCHESTER
Deck Selection
When asked what deck he was taking to the GP, Kayure Patel had only one reply.
One of the most daunting tasks during Grand Prix preparation is deck selection; the cards you choose to sleeve up and battle with have a resounding impact on your result throughout (hopefully!) two days of competition.
My testing for GP Manchester began the same way most of my testing for major events begins, I played a ton of matches with various high performing decks against my brother George to see what I liked the feel of and what I simply couldn't see myself playing. The first round of testing is always pretty unfocused and ended up looking like this
Testing results V1.0: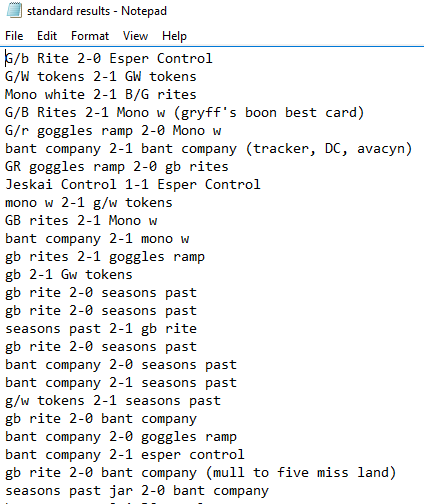 After about a week of this we got our act together and updated it to a Google sheet to give us a clearer picture of what was going on in our testing.
Testing results V2.0: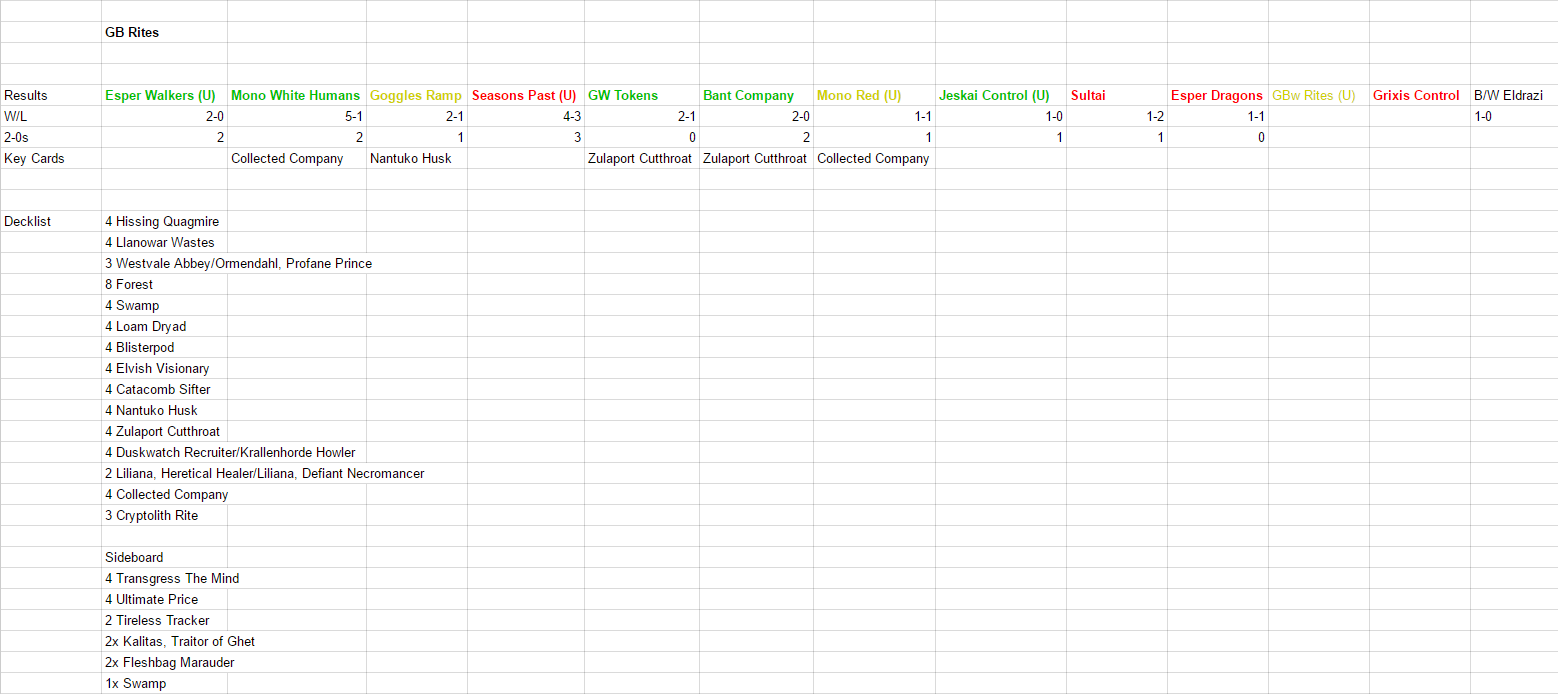 We had a Google sheet for each deck in our gauntlet with results and colour coding for who we thought was favoured in each matchup. This system worked fine until it came time for everyone to start inputting results, at which point it fell apart as people forgot to do things like update the correct sheets or didn't know how to input results against rogue decks they played online. Thankfully at this point Tom Law took matters into his own hands and created this masterpiece which came along with an input form where players could easily and quickly input their results and have them automatically tabulated into this
Testing results V3.0: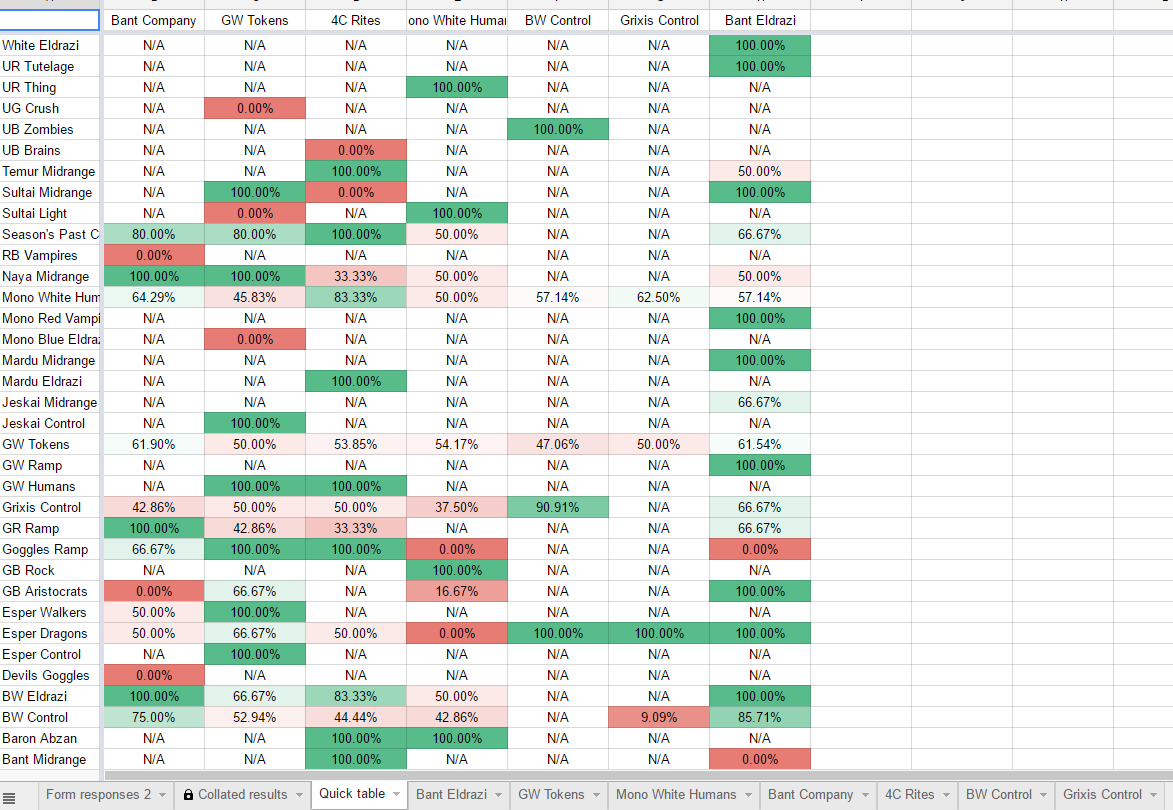 Once this was set up, the data started pouring in and we had access to our own personal team gauntlet. Following a lengthy Skype meeting with the team, which we do about once a week, we agreed that we should be playing G/W tokens or a deck that preys on G/W tokens like Cryptolith Rite.
Most of the team ended up on Bant Rite aka Bant Eldrazi but Kayure Patel and I simply couldn't get on board with the deck. The third time I played Kayure and cast an end of turn Collected Company into just Loam Dryad followed by him casting Tragic Arrogance and letting me keep 'Loamy D' whilst he kept Gideon and Sylvan Advocate I knew the deck wasn't for me. Following the age old adage of 'if you can't beat them, join them', I decided to join Kayure in playing G/W tokens and set to working on a list we were both happy with.
Building a Main Deck
We started with Mike Sigrist's list from GP Toronto, as a member of Team Face to Face who had built the Pro Tour winning deck list we were confident a lot of work had been put into the deck, and that it was a strong place to begin working. The list looked like this:
Creatures (14)
4 Hangarback Walker
4 Sylvan Advocate
2 Thraben Inspector
4 Archangel Avacyn
Planeswalkers (8)
4 Gideon, Ally of Zendikar
4 Nissa, Voice of Zendikar
Lands (25)
8 Forest
7 Plains
4 Canopy Vista
4 Fortified Village
2 Westvale Abbey
Spells (13)
1 Evolutionary Leap
1 Stasis Snare
4 Dromoka's Command
2 Secure the Wastes
4 Oath of Nissa
1 Declaration in Stone
Sideboard
2 Lambholt Pacifist
1 World Breaker
1 Evolutionary Leap
2 Clip Wings
1 Hallowed Moonlight
1 Secure the Wastes
1 Linvala, the Preserver
2 Declaration in Stone
3 Tragic Arrogance
1 Westvale Abbey
Core Cards
The core of the deck was 4 Sylvan Advocate, 4 Gideon, 4 Nissa, 4 Avacyn, 4 Dromoka's Command and therefore these slots were not negotiable. The Planeswalker package is the premise of the deck and Advocate is simply the best green two drop in Standard. Avacyn is arguably just the best card to come out of Shadows over Innistrad and its inclusion as a four of is one of the most attractive features of the deck. G/W tokens is the only Tier one archetype that can support four Avacyn as it is a deck that both wants a lot of creatures and doesn't care about keeping the number of Collected Company hits high. I demanded we play all four Oath of Nissa as the card is fantastic in the deck since it really helps smooth out your draws. One of the best things about G/W tokens is its ability to curve 1-5 and I wanted to maintain that internal consistency. The Evolutionary Leap is fantastic in the maindeck as a way to grind out longer games and flip Avacyn at will. The Secure the Wastes were simply among your best cards against the control decks so we locked those in as well.
Hangarback Walker
The next thing to decide was how many Hangarback Walker to play, it's very important in a deck like G/W tokens to be able to protect your Planeswalkers and curving a blocker into a Nissa is the best way to ensure you untap and keep the value-train rolling. Hangarback Walker is the obvious two-drop for this deck; it is an excellent value card and one of the best chump blockers in the format, since it makes more chump blockers when it dies. Once again only G/W tokens can really get full value out of this card as you aren't playing Collected Company like most of the creature decks. The value of having access to additional fliers and making multiple creatures when it dies synergises very well with the multiple 'Glorious Anthem' effects your Planeswalkers are able to provide. In addition, Hangarback serves a vital role in allowing you to flip your Avacyn easily by casting Avacyn then casting a Hangarback for 0, which dies upon entering the battlefield and triggers your Avacyn to flip in the next upkeep. Hangarback Walker is also a resilient threat against the control decks, where it is extremely hard for them to remove it from the battlefield without you getting additional bodies in the form of Thopters. It is also the best thing to sacrifice to Evolutionary Leap to begin churning through the creatures in your deck. I really can't emphasise how good the 'HangFather' is in this deck, the internal synergies make it a fantastic inclusion to the deck despite its current weaknesses in the format, such as Kalitas and Reflector Mage.
The Fourth Creature
Thraben Inspector was quickly cut from the deck as the fourth creature as it was largely there to help provide a roadblock against humans, a deck that had fallen off the radar a bit in the weeks leading up to GP Manchester. To replace it, we had four realistic options; Tireless Tracker, Den Protector, Lambholt Pacifist and Hanweir Militia Captain. After some discussion between myself and Kayure, we quickly dismissed Militia Captain as a 'win more' card (if it's flipping you've already stabilised the board and are likely ahead) leaving us with the commonly played Den Protector and Lambholt Pacifist and the slightly less common Tireless Tracker. We played several matches with each card and were impressed by Tracker and Den Protector far more than Lambholt Pacifist who just didn't seem to do anything (even though João insisted the card was absolutely insane). After some deliberation, we agreed that we wanted both Tracker and Protector in the 75, but wanted access to specific cards in game 1 rather than random cards off the top. Consequently, we decided to play Den Protector in the maindeck and Tireless Tracker in the sideboard for the grindy matches. This also worked extremely well with the Evolutionary Leap as you could dig for a Den Protector to regrow a card you needed.
Clip Wings and Hallowed Moonlight
Both of these cards look like they are part of a solid plan. Clip Wings your Ormendahl, Moonlight your Collected Company or Secure the Wastes. In practice though, both cards do basically nothing. Moonlighting a Company is great but holding up two mana in a matchup against Reflector Mage where your mana is heavily pressured is a nightmare. Clip Wings just doesn't do anything, I have lost multiple games to an opponent's Westvale Abbey when I had Clip Wings in hand and they just never transformed their Abbey. These cards were swiftly cut from the sideboard.
Our final decklist ended up looking like this:
4 Sylvan Advocate
4 Nissa, Voice of Zendikar
4 Gideon, Ally of Zendikar
4 Hangarback Walker
4 Archangel Avacyn
4 Dromoka's Command
2 Tragic Arrogance
2 Den Protector
1 Evolutionary Leap
4 Oath of Nissa
1 Declaration in Stone
1 Secure the Wastes
8 Forest
7 Plains
4 Fortified Village
4 Canopy Vista
2 Westvale Abbey
1 Evolutionary Leap
1 Stasis Snare
1 Declaration in Stone
1 Linvala, the Preserver
1 Dragonlord Dromoka
2 Tireless Tracker
2 Angelic Purge
1 Silkwrap
1 Descend upon the Sinful
2 Secure the Wastes
2 Lambholt Pacifist
Tragic Arrogance vs Declaration in Stone
The format was moving towards a midrange grind-fest and 4C Rite and Bant Rite were picking up in popularity after the MOCS. Michael Majors' Top4 finish in GPNY with two maindeck Tragic Arrogance pushed us to try Arrogance in the maindeck as the fifth and sixth removal slots where most lists had two Declaration in Stone. Declaration in Stone is an excellent card but letting your opponent draw a card when you kill their guy is a pretty huge downside in a midrange mirror and since we were playing maindeck Den Protectors our game plan was to go long. Declaration maindeck is significantly better in the Pacifist versions of the deck, which are looking to close out game one quickly with an aggressive draw. Tragic Arrogance was also not a popular maindeck card which meant there was a good chance people wouldn't play around it game one, leading to some incredible blow-outs. This was especially appealing against the Rite decks, which were proving to be a very tough matchup. However, we wanted to have access to a removal spell for a single large creature like a World Breaker or Dragonlord Atarka so we moved one Secure the Wastes to the sideboard to fit in one Declaration in Stone. The addition of Den Protector in the maindeck made it easier to play one-ofs since if you drew it you could buy it back with Den Protector.
3 Westvale Abbey
The common trend for G/W tokens decks (or any deck running Westvale Abbey) was to have 3 Westvale Abbey. However, as I mentioned before, a lot of the power of G/W tokens is being able to curve 1-5, which makes taplands and colourless lands very bad for the deck. Fortified Village and Canopy Vista don't play that well together, since whilst you can reveal Vista to Village to make it enter the battlefield untapped, it then takes that much longer to get two basics so that your Vista is untapped. When you want to curve 1-5, a tapland at any point up to land drop six can be a serious problem. Having played with Shadowlands a bit, I think they're pretty bad; I was referring to Fortified Village as Selesnya Guildgate and Canopy Vista as Savannah by the end of our testing. To test the third Abbey versus the eighth Forest, we played one white bordered Forest in place of the Abbey. After a crushing victory of Forest being better than Abbey twelve times to three we locked in on two Abbey and eight Forest.
The Sideboard
We already knew we wanted two Tireless Tracker from our maindeck testing; the card was just so good whenever the game was going long. Against the control decks (namely B/W and Grixis), it was important to have an instant speed threat that could not be removed at instant speed, Secure the Wastes was the obvious choice. The longer the game goes the more mana you have and the better a Secure becomes. It is especially hard for Grixis to deal with an end of turn Secure into transform Westvale Abbey, which is one of the main reasons I think G/W is favoured in the matchup. The best card in the deck against these controlling strategies is Evolutionary Leap and adding a second to the sideboard was an easy decision; I would've played even more copies of the card if it were not so horrible to draw multiples. Against the removal heavy decks Dromoka's Command is not a reliable removal spell and so we wanted a straight swap of four Command for four real removal spells, since the control decks would often bring in additional creatures after sideboard such as Kalitas and Eldrazi Displacer. The second Declaration was an easy addition as it has applications in other matchups; it is fantastic in the mirror but more copies were unappealing as your opponent always had time to use the Clue. The solution came in Angelic Purge; this card is excellent in the sideboard of G/W tokens as a catch-all answer to creatures and a 'Naturalise' effect after sideboarding out Dromoka's Command. You often have excess permanents in the form of Oath of Nissa, Plant tokens and Hangarback Walkers that you can afford to sacrifice to the Purge and sometimes you can set up an unexpected Avacyn flip by sacrificing a creature. The fourth removal spell was a Stasis Snare; this card is a bit of a liability in a format of Dromoka's Commands, Tragic Arrogances, World Breakers and Anguished Unmakings. However, it is the only real instant speed option available to G/W once Dromoka's Command is out the picture (believe me we went through all of them, if you could turn on spell mastery there's a good chance you'd see a Swift Reckoning in my sideboard!) and having access to a way to kill a Dragonlord Silumgar trying to steal your Planeswalker was very handy.
"The Dragons" aka Dromoka and Linvala were important tools to have access to; at one point I was adamant we should be playing two Linvala and zero Dromoka, as I was concerned that post-board everyone was bringing in as many copies of Declaration in Stone as they had access to and making a six mana clue wasn't my idea of a powerful sideboard card. Luckily I was dissuaded from this by Kayure who assured me that Bant Company could basically never kill a Dromoka. Linvala was a powerful effect against any aggressive strategy and also proved to be amazing in the mirror, where after sideboard you wanted a single large flying threat. It's also an excellent way to stabilise against Collected Company/Reflector Mage decks, as bouncing a Linvala is an awkward play to make when it might just come down two turns later for another five life and an angel. Those decks often want to hold up Negate on turns five and six and Linvala is an excellent way to punish this.
The third 'Wrath' effect made its way into the sideboard as a dedicated hate card for Cryptolith Rite and Bant Human decks, those matchups can go from extremely difficult to almost a guaranteed win if you can resolve a Wrath at the right time. I wanted to try a Planar Outburst but found the card to be disappointing in actual testing and since we expected a decent amount of Bant Rites there was a chance it would be countered by an Avacyn, which we considered an unacceptable risk. Kayure came up with the idea of a Descend upon the Sinful and after trying it a couple of times I was pleasantly surprised to find that you actually turn on Delirium a large percentage of the time. Creature, Instant, Planeswalker, Sorcery, Enchantment and Artifact could all realistically make their way to your graveyard (even land sometimes with Angelic Purge!).
This left us with two sideboard slots. To work out how we planned to sideboard each matchup Kay and I would play each other with the G/W deck pre-sideboarded for the matchup and see how often the cards we were siding in were making a large difference and see what cards were underperforming. This led us to create a 'Tom Law' style sideboard spreadsheet which looked like this: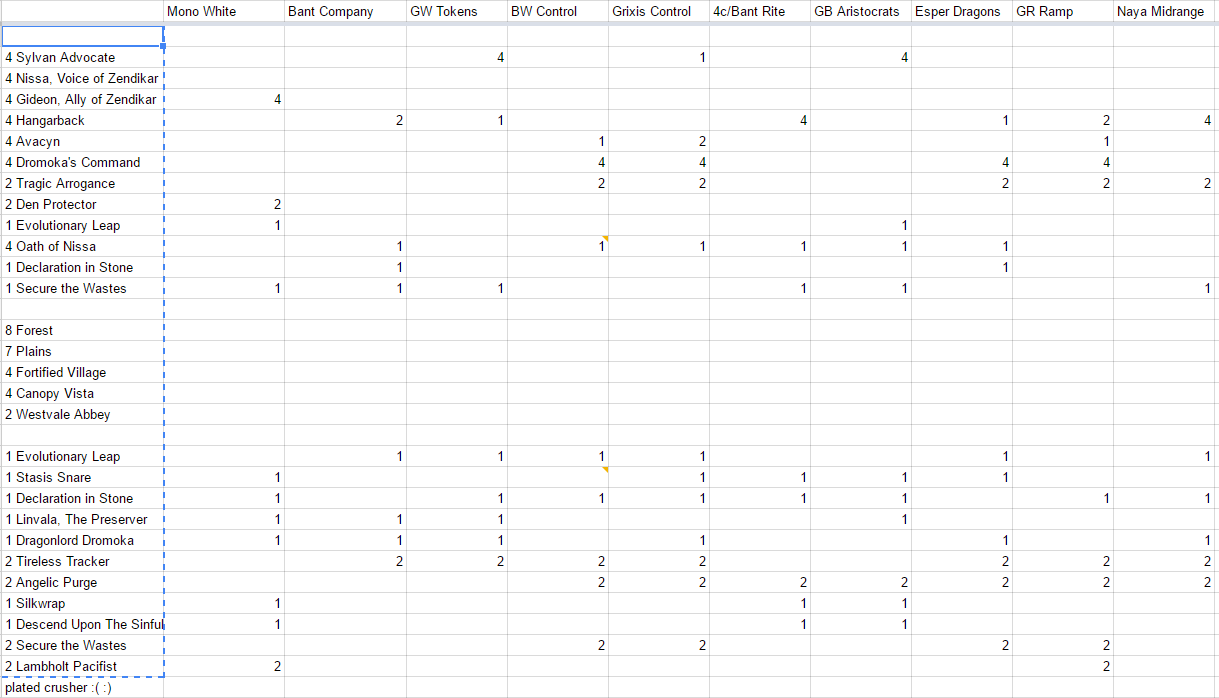 With two slots left over we went through every card in standard trying to figure out what to add, eventually Tom ran some numbers and came to the conclusion that Ramp and Humans were the decks we were sideboarding the least for and also had some cards we were happy to cut. With that in mind, we decided to add Lambholt Pacifist back into the 75, despite our dislike of the card in general, as a card that was a slight upgrade in both of those matchups. (However, after the GP we decided this was a mistake and we should have played 2 Surrak, the Hunt Caller as our ramp matchup was a little weak.) With that we were locked on our 75 by the Wednesday before the GP!
GP Manchester
I arrived at GP Manchester at around 10pm Friday evening, unfortunately my friend James had to work Friday and we weren't able to set off until around 6pm due to traffic. After a quick meal and about half an hour of helping Luke May with his G/W list, I wrote my own decklist and went to bed, ready to battle in the morning. Having two byes I was able to get some breakfast with the team before sitting down in Round 3 for the start of the GP.
My first opponent was on G/B Aristocrats, the LSV Pro Tour Top 8 deck. I was very concerned to see this right away as it had largely fallen off the map in favour of 4C or Bant Rite and was a very tough matchup for G/W. My opening hand contained Avacyn and two Hangarback Walkers. I knew my plan was to land turn five Avacyn and immediately Hangarback for zero to clear his board. Everything was going fine until turn five when I decided to Gideon emblem to keep my Advocates alive through Avacyn flip. After making the emblem, I attacked, cast Avacyn then slammed Hangarback for zero. At this point I looked at my emblem, then at my 1/1 Hangarback. Oops. Luckily for me my opponent was unable to find a cutthroat and I ran him over the next turn with a large attack.
The next interesting match was Round 5, which was a truly horrible experience for me as I sat down against one of our worst matchups, R/G Goggles Ramp. I got my opponent down to 6 in game one before he cast Dragonlord Atarka to kill my Advocate and my Nissa. My board at this point was a 1/1 Hangarback Walker, three Warrior tokens and a Thopter token with two Gideons stranded in my hand, as I was lacking a second white source. I untapped, attacked and he blocked my Hangarback Walker putting him to 2. His turn was untap land say go, I drew for the turn; it was a Dromoka's Command, and I was sure I had this game locked up. I turned my five creatures sideways and looked at my opponent who considered his options for a while before tapping three mana and casting Kozilek's Return. I slammed my Dromoka's Command to put a counter on my Thopter and prevent the damage at which point my opponent calmly tapped his 5 remaining mana (including a Pyromancer's Goggles) and said "Fall of the Titans for 4? Copy it, kill Thopter, Thopter, Warrior, Warrior, block your last Warrior?". Sometimes they just have it all. Game two followed a similar pattern, my early aggression was stymied by a Devour in Flames on my turn 4 Gideon followed up by Goggles into fireball my face for 14 untap fireball my face for 16.
I quickly dispatched my B/W opponent in Round 6 and due to some lucky draws was able to squeak out a win against teammate David Calf on Bant Eldrazi in Round 7 (Tragic Arrogance. You keep Loamy D). Round 8 was an interesting one as I was paired against Dominic Penton-Hauchard who was on his spicy Mono-Blue 'Time Walk' prison deck. Luckily I knew what he was playing before we sat down and was able to mulligan my slow opening hand until I found a hand with turn 4 Gideon. Game one, Dominic just cycled through his deck, unable to find the relevant interaction he was looking for and died to my Gideon +1s. Game two, he made early double Thing in the Ice, some quick aggression from Den Protector made it difficult for him to block and I got him to 7, finding an Angelic Purge along the way to remove one of the Things. Dominic was then able to Negate my second Purge and flip his remaining Thing in the Ice, putting me to 13. I untapped, made blockers and passed the turn, Dominic immediately attacked me with Awoken Horror and I felt obliged to block, as a Part the Waterveil into Engulf the Shore would mean I was dead. Dominic had the Part the Waterveil and I was forced to chump block again. Luckily Dominic never found Rise from the Tides, a card I could likely never beat, and I was able to ultimate a Nissa for six cards and six life. From there Dominic was too far behind and I was able to close out the game. I faced B/W control in Round 9 and once again was able to assemble Evolutionary Leap/Nissa combination to bury my opponent in card advantage. 8-1 at the close of Day One.
Rounds 10, 11 and 12 were all against Bant Humans, a powerful deck pioneered by Yuuya Watanabe at GP Tokyo. Round 10 I was able to assemble my Planeswalkers and lock up the ground for a relatively straightforward victory. Round 11 I had a very close game one where I flipped an Avacyn to wrath my opponent's board, unfortunately he Reflected the Avacyn and then had Ojutai's Command for both it and my follow up Avacyn. I proceeded to flood out and we went to game two. My opponent had a very slow start in game two and I was able to use this to my advantage to get some early pressure in. Unfortunately, I couldn't find a Planeswalker and he stabilized at 2. I baited out a counterspell with a Dromoka's Command and set up a delirious Descend upon the Sinful, at which point my opponent looked at it, counted the types in my graveyard and said "uh-oh, crack a clue I guess?". I looked at the top of his deck and prayed it wasn't a Negate, my opponent flips it face up. Negate. Savage. Round 12 was a fairly unexciting affair, I was run over in game one, my opponent was run over in game two and in game three, I mulliganed to six and had to keep a hand with two lands that enter the battlefield tapped on the draw. I was promptly run over by a Pacifist into Lieutenant draw and I was 9-3.
Round 13 I was paired against Grixis Control, which I think is a pretty favourable matchup for G/W. Game one I was very far behind to multiple Kolaghan's Commands making me discard before I topdecked my one Evolutionary Leap. It's absurd how good the card is in the matchup, I think I went from about 15% to win the game to 75% as soon as I drew it. I turned four plants into real cards whilst preventing the lifegain from Kalitas and was able to bury my opponent in card advantage. Game two I had Leap and Nissa in my opening hand and knew I could never lose.
Round 14 was my only match against Naya midrange, despite its popularity at the GP. Game one was an intense 35 minute grind where I lost to an eventual Avacyn blowout that dispatched my Avacyn and my Den Protector. Game two my hand was two Forests and an Oath of Nissa and I never found a third land. 10-4.
The final round saw me playing for a shot at cash in the G/W tokens mirror match. Sadly there were zero real games played as my opponent nut drew me game one with a draw featuring Advocate, Nissa, two Dromoka's Commands, and Gideon. This was followed by me nut drawing him with a similar hand game two. Game three he mulliganed to five and was unable to find a third land before I had Nissa and Gideon on the table. My opponent wished me luck in making cash and went to find his friends Oscar Chistensen and Christoffer Larsen, both of whom had made Top 8!

My final placing was 56th, good for 2 Pro Points and $250.
Conclusions
I was extremely happy with the decklist I played at GP Manchester. The G/W lists in the Top 8 of the tournament were also playing Den Protector, except for Levy who when asked what he would change said he'd cut the Pacifists, and some form of Wrath in the main deck (one arrogance for Oscar and Christoffer and two Chandra for Raphael Levy). Going forward, I would definitely add Surrak, the Hunt Caller to the sideboard as the list is perhaps a little weak to ramp. I would also consider trimming the maindeck Arrogance to one copy. It is a powerful effect to have access to in the maindeck and it is very hard to play around game one. I would also consider changing the Tireless Trackers in the sideboard to Nissa, Vastwood Seer as Gerry Thompson recently did. The mana can be surprisingly hard in G/W tokens and getting to five on curve is very important, Nissa Vastwood Seer still provides value in the grindy matchups but is also an excellent swap for Nissa, Voice of Zendikar in the faster matchups where a Nissa, Voice of Zendikar won't stick around for long.
My goal for the GP was to make cash for the first time and I'm delighted to have done so. I would strongly recommend G/W tokens going forward in Standard. If you don't play G/W you definitely need a plan to beat it!
About Henry Channing:
Henry Channing is a perennial grinder, based in the south east of England he attends as many Grand Prix as possible and regularly tests on Magic Online. He started playing competitive Magic during Theros, which contains his favourite card, Courser of Kruphix. Henry will play any GP format in Magic but prefers Standard and Limited. His best results are two 12-3 finishes at Grand Prix Turin and Grand Prix Birmingham, first place at the Axion Mega Modern securing flights to Las Vegas and several cash finishes on the English tournament circuits. He currently holds a Bronze Level Pro status. Henry's long-term goals are to Top 8 a GP and obtain that elusive Pro Tour invite.